Strategy Guide
Order at www.wekaservices.ch/strategie-leitfaden
This strategy guide is a practical guide to developing business strategies. The concept is based on 20 years of experience that I have acquired in the accompaniment and management of strategic projects with mainly medium-sized companies in Germany and Switzerland. The guide clearly shows how a strategy project is set up and then guides you step by step through the process to the point of preparation for implementation. The book is intended to empower employees to independently develop and implement the strategy of their company.
Employees as strategists
Most corporate strategies emerge in the all circle in top management, often with the support of external Consultant.
Practice shows that a large part of these strategies does not work or only works poorly. They may be well thought out or even brilliant in content, but create massive implementation problems. The reason: they do not reach the heart or the head of the employees. They are therefore understood too little or not at all and thus not supported. The result is misunderstandings and resistance, which must be overcome with great effort to implement the goals. This effort is then debited under the Change Management account.
That can be avoided in our experience! By integrating employees into an integrated development approach, the strategy becomes the strategy of the employees, who are then more motivated to implement it – with the positive side effect that strategic competence is simultaneously built up in the company on a broad basis.
Sructure
 Basics
Chapters 1 to 3 present just a few theoretical foundations. After looking at different approaches to strategy development, we will discuss some key issues and economic laws. One focus is on professors Hans Ulrich and Aloys Gälweiler. Professor Ulrich, who may be described as the founder of the system-oriented approach, describes a company as an open, productive and social system. From this, the central objective of the strategic work is derived: to promote and ensure the long-term viability of the company.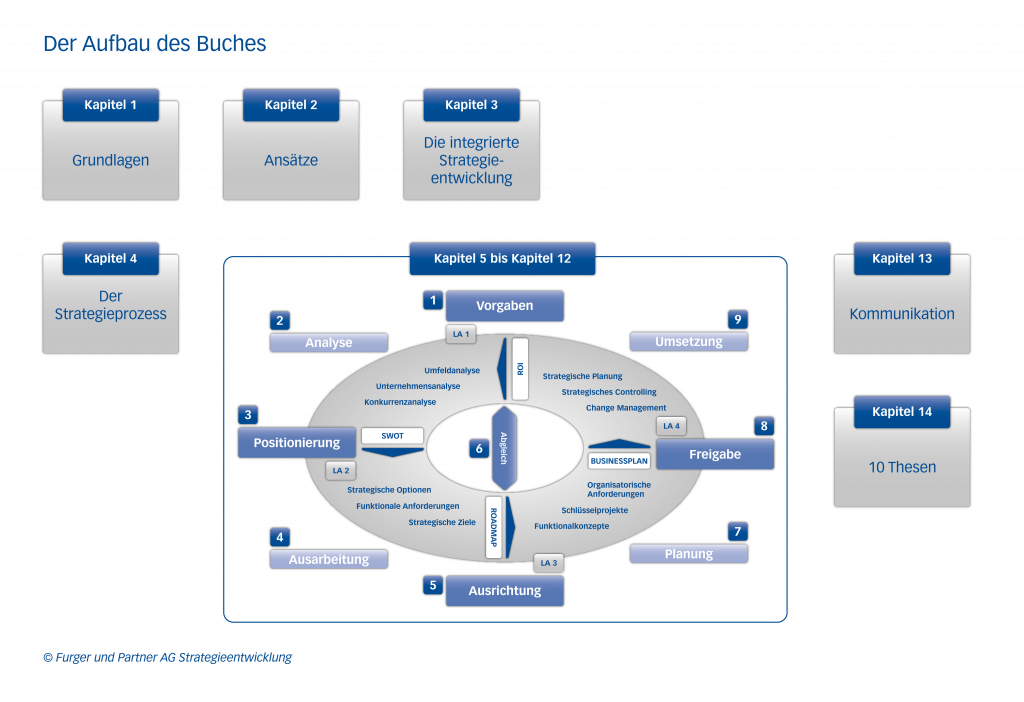 Strategy process
Chapter 4 is dedicated to the strategy development process. As a basis, we present a model of the complementary process that will guide you through the guide as a whole. To this end, we also present possible variants of the overall process, which can be applied depending on the requirements of the company. In addition, it explains which roles are involved in a strategy process and how decisions are made. Hints and advice on organizing meetings and filing documentation complete the chapter.
Guide
Chapters 5 to 12 each represent a step or intermediate step in the strategy process. We describe the procedure and the contents
for the workshops, presenting templates for the agenda and screenplays, and listing each one's homework. At the end of each chapter the necessary instruments are listed. All checklists, templates and tools can be downloaded from the book's website. These serve as a template and can be adapted and supplemented as needed. In particular, three aspects are emphasized in this process: the decision-making process between actual project phases, detailed planning of the implementation and the implementation of strategic controlling as part of a separate strategic planning process.
Conclusion
Without going into the theoretical and well-known principles of communication, in chapter 13 we will give you some information about communication based on our practical experience. Our 10 theses titled «Employees are the best strategists» conclude the book with chapter 14.
Electronic Instrumentarium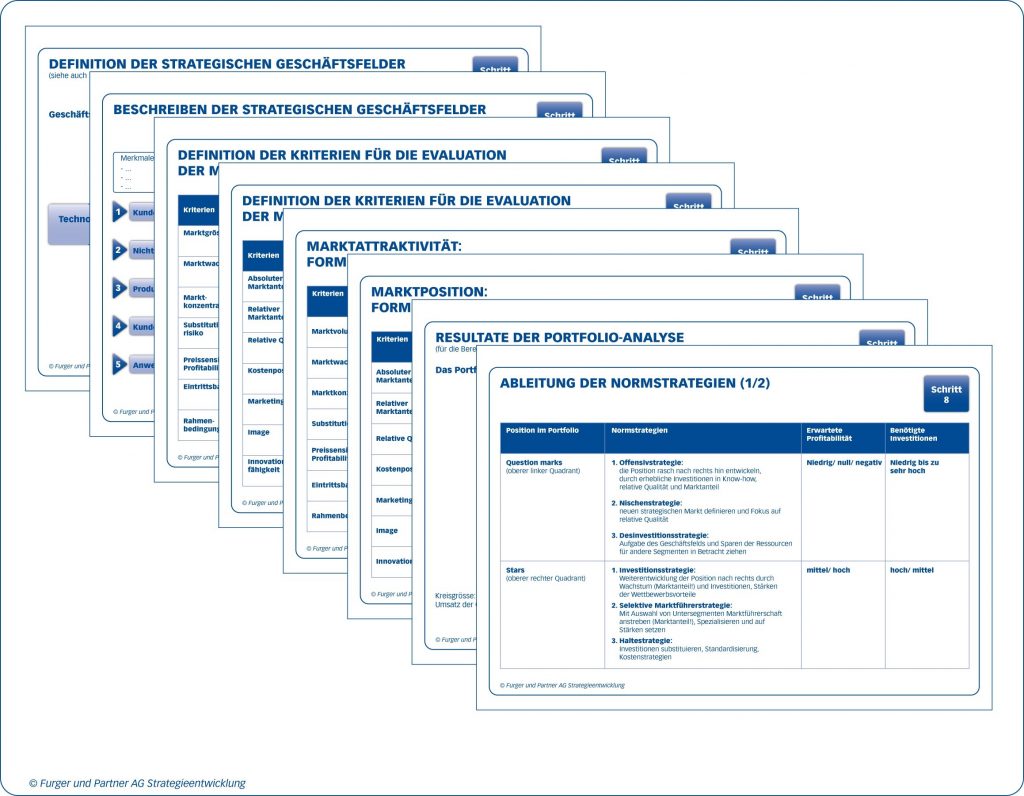 With this guide you will receive a comprehensive set of tools in electronic form that you can download from a book's own website and use as a working framework for your strategic projects. In addition to well-known strategy tools such as the SWOT, this includes all the documents you need for a project: checklists for the project setup, agendas and scenarios for the workshops, forms and tables.
The instruments are explained in the book just below the immediate application without unnecessary theoretical ballast.
Understanding strategies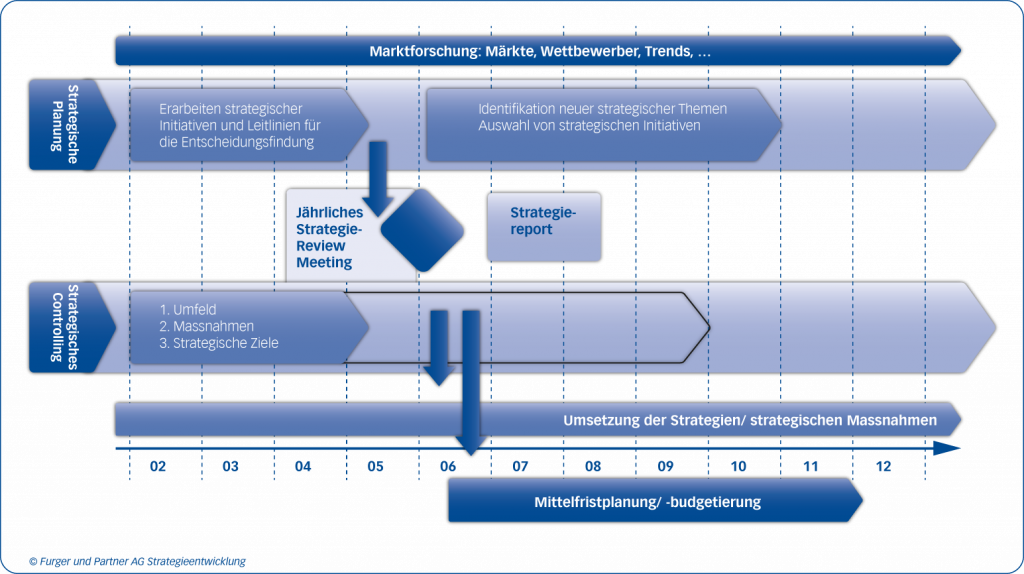 Last but not least, the concept of this guide is that we do not impose rigid instructions and guidelines. Rather, it allows the procedure to adapt both the process and the documents in each case with regard to the specific situation and the requirements of the company. The wide range of instruments and forms is by no means a corset intended to lead to a mechanical execution and filling of forms. The book is intended to teach one thing in particular through its approach: UNDERSTAND STRATEGY.
Order at www.wekaservices.ch/strategie-leitfaden
Reviews – Excerpts:
Bernhard Kuntz, Office for Education & Communication
… A very clearly and systematically structured (work) book, which provides its readers with the necessary tools either to develop strategies for their own company or to design such processes. It is also helpful that the author has placed instructions, forms, etc. on a separate website for all instruments mentioned. From there, readers can download it, adapt it to their needs and use it for their projects. A recommended book!
Prof. Dr. Patrick Eichenberger, Zug / Berlin
… All in all, this strategy guide has produced a highly informative and instructive book on the subject of strategy development, where a proven practitioner and expert in this field not only writes in plain English but also makes convincing attention to numerous shortcomings in this sector. As a university professor in business administration, reading and studying this book has brought me many insights and complementary knowledge of a wide range of tools and brought my knowledge to the sensible and feasible on an updated state of this «strategy consultants guild». Particularly valuable should be the sometimes excellent documents in Power Point, Word or Excel form, which represent in fact a great and highly useful fund of tools. The Strategy Guide has clearly earned five stars in its entirety!
Dr. Pablo Hafner
… With «Strategy Guide» you have all the tools that a professional strategist uses in his daily work. If you own or run an SME, you have the opportunity to design your own business strategy at an affordable cost; a luxury that I at least could not enjoy so far.