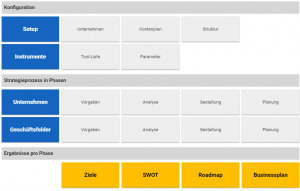 Developing, modifying and adapting business models, generating ideas, exchanging ideas, challenging digitization and experiencing disruptions together with your employees – with STRATEGY.APP you can take the future of your company into your own hands.
STRATEGY.APP guides you step by step safely and clearly from the analysis of the initial situation through the design and planning to the formulation of the strategic measures.
STRATEGY.APP creates a variety of quantitative reports with charts.
STRATEGY.APP provides information about the current status of the measures at any time.
The Management View gives you access to the key information: strategic directions, SWOT, sales and earnings goals, and measures – anytime, anywhere via tablet or smartphone.
Any given time STRATEGY.APP will create a Strategy Report for you. Print out individual elements or a selection of the content you want.
The basic version of STRATEGY.APP is free and includes all features including printing to create a consistent business strategy. In addition you get the manual and the instructions online.
Download the manual for the program here:
https://www.strategy.app/wp-content/uploads/2019/03/StrategyApp_Handbuch_201903.pdf
Or start your strategy today and sign up for an access for your business: www.strategy.app